This is your monthly real estate market update for Anne Arundel County Maryland with James Bowerman, Realtor and the Real Creative Group of Compass.
The shift in demand for housing due to the unprecedented rise in interest rates has led to more opportunity for buyers. Sellers homes are now sitting on the market longer, and selling for an average of 98.6% less than the original list price. Our current supply has now worked its way up to 1.6 months of inventory. Yes, interest rates are high, but buyers are now able to negotiate for better prices and terms in most markets.
There's a phrase that's been circulating by many in the real estate industry of "marry the house, date the rate." I'm not particularly fond of this analogy, but it does help to address concerns of high interest rates. The rate you get today will be the highest you will ever get. If rates go up, which they likely will, you'll be glad you locked when you did. But, if rates go down, you'll be able to refinance to a lower rate and decrease your monthly payment.
It's also important to remember that a recession means falling interest rates. Throughout history, during a recessionary period, interest rates go up at the beginning of the recession. But in order to come out of a recession, interest rates are lowered to stimulate the economy moving forward. In the past 6 recessions, rates have fallen from between 0.63% in 2001 to 5.0% in 1981. As of writing this, the current average rate for a 30-year fixed mortgage is 7.32%.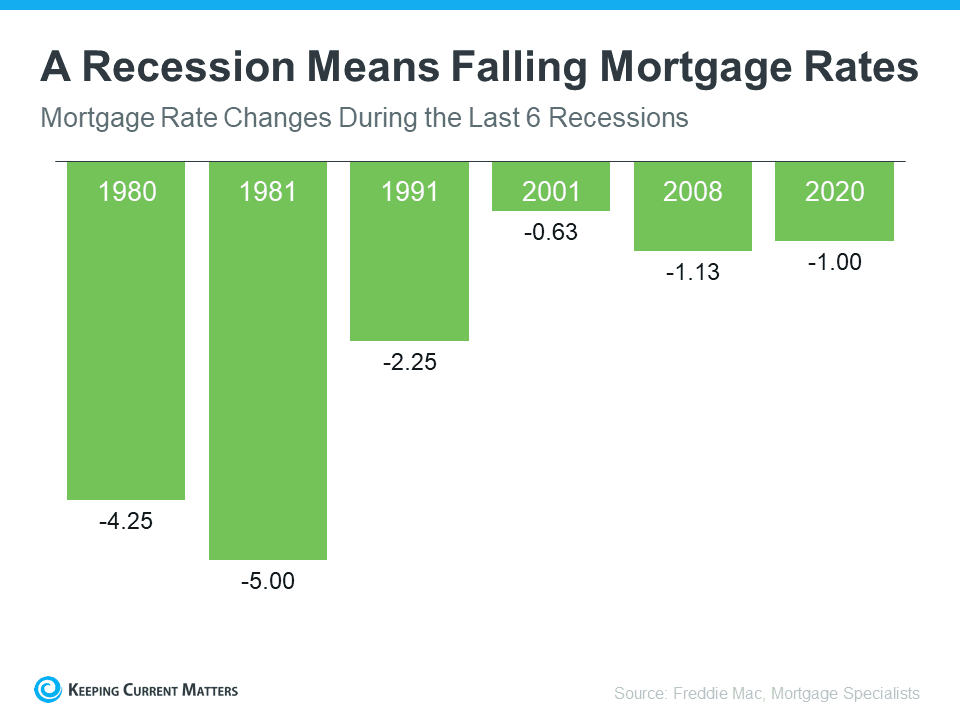 If you're going to be selling your home, it's important to understand what's happening in your local real estate market. Some areas are still in high demand, but don't expect to get the same results as your neighbor who sold in the Spring. Gone are the days of putting your house on the market, putting a sign in the yard, and waiting for the offers to come flooding in.
Instead, we have entered back into a skill based market, where you want to focus on these three key factors:
Appearance - which triggers an emotional response from home buyers when seeing the property.
Price - the fair market value is determined based on comparable sales, property condition, and demand in the market.
Exposure - marketing the property so it can be seen by potential buyers and the agents who represent them.
The reality is, if your home isn't selling, or doesn't sell, it's likely because of one or more of these factors. If you're serious about selling your home, make sure you hire a skill based agent with a good track record, such as myself. I'd love to show you how our proven approach consistently delivers superior results.
Anne Arundel County, MD Housing Inventory
Let's take a quick dive into a few of the metrics for Anne Arundel Counties housing inventory.
Coming Soon: There are 74 homes coming soon to the market, which is 22 less than last month. Properties cannot be in the Coming Soon status for more than 21 days.
Active Listings: There are 858 properties currently active for sale. This is down 24 homes compared to last month, but an 8% increase compared to this time last year.
Under Contract: There are 820 homes under contract and no longer available to tour or purchase. This is 62 fewer properties compared to last month, and a 45% decrease compared to this time last year when interest rates were still around 3%.
Homes Sold: There were 565 homes sold during the month of October. This is 193 fewer home sales compared to the previous month, and a 41% decrease compared to this time last year.
Anne Arundel County, MD Average Time on Market
The average days on market increased to 24 days, which means homes sold 4 days slower on average compared to the previous month. In the last 30 days there have been 409 price reductions, which is slightly more than the previous 30 days and about 48% of the active inventory.
Anne Arundel County, MD Average Home Prices
The average home sale price in Anne Arundel County in October was $525,581, which is a 4% increase compared to prices this time last year.