This is your monthly real estate market update for Anne Arundel County Maryland with James Bowerman and the Real Creative Group of Compass.
Interest rates shot up again in the month of September. The current average rate for a 30-year fixed mortgage is 6.89%, rising 7 basis points over the last seven days. This has a big impact on affordability for home buyers. E.g. The difference in monthly payment on a $500,000 home with a 4.8% and 6.8% interest rate is about a $600 per month increase!
Real estate is cyclical, meaning it has predictable cycles each year. In the Spring we see an increase in activity, and then in the late Summer into the Fall we see things slow down. When we look at the ShowingTime foot traffic for over the last few years we can see an almost identical parallel line as showings decrease this time of year.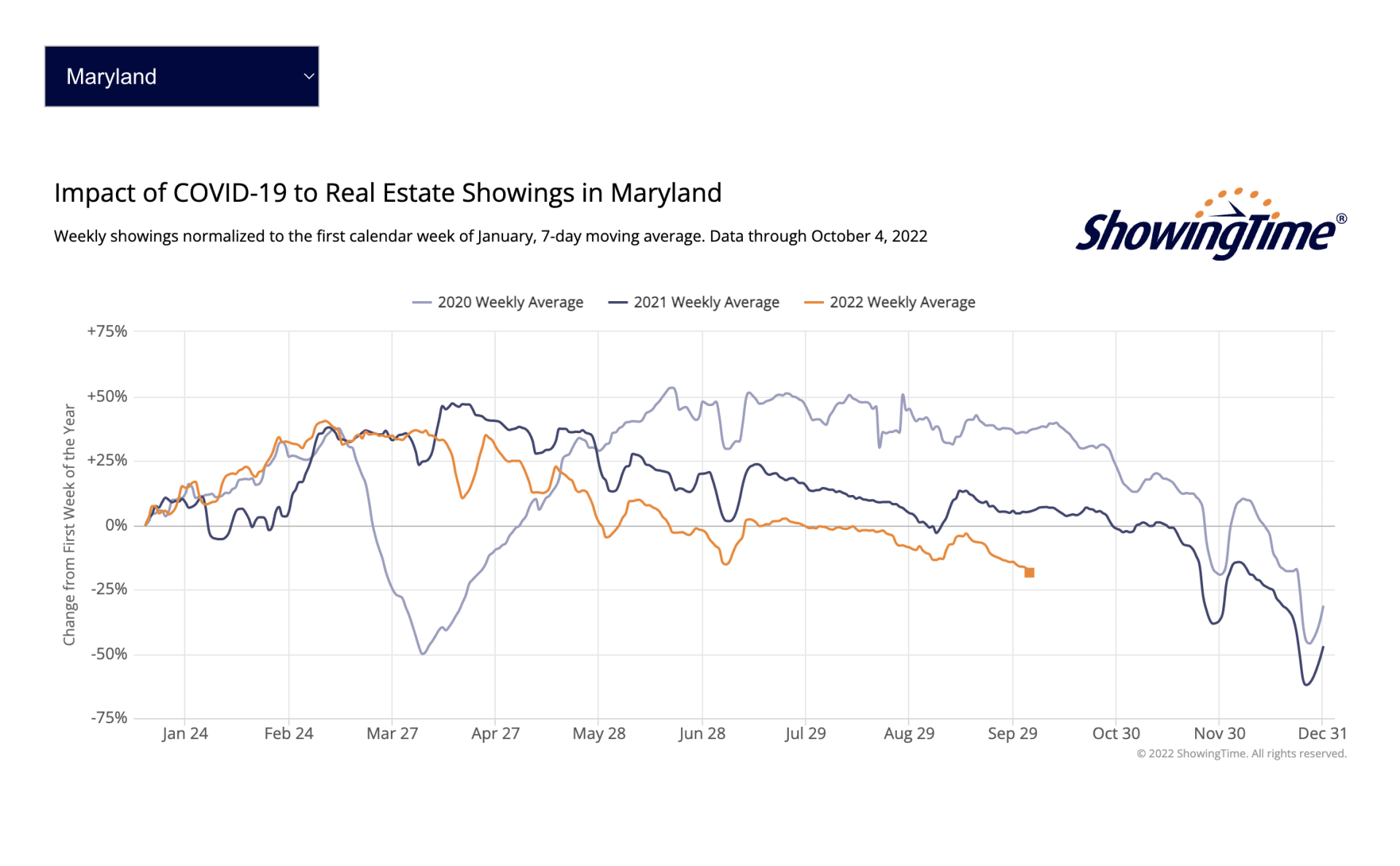 The reason these lines have so much separation is because the amount of inventory has continued to decrease year-over-year. Currently we are sitting at 0.6 months of inventory in Anne Arundel County. This by definition is a sellers market because of the low supply.
Many national headlines want you to believe that we are in the midst of a crash, but that simply isn't true in our local market. Although prices will likely decrease in some areas, because of the low supply we will continue to see home value appreciate, but at a much slower rate.
Therefore, if you have to move, or just really want to move, make sure you focus on your monthly payment. Rates will eventually come down, be it 6, 12 or 18 months – we don't know exactly, but when they do you can always refinance. And remember when you rent, your interest rate is 100%!
Anne Arundel County, MD Housing Inventory
Let's take a quick dive into a few of the metrics for Anne Arundel Counties housing inventory.
Coming Soon: There are 96 homes coming soon to the market, which is 15 less than last month. Properties cannot be in the Coming Soon status for more than 21 days.
Active Listings: There are 847 properties currently active for sale. This is 47 more homes compared to last month, but a 3.5% decrease compared to this time last year.
Under Contract: There are 882 homes under contract and no longer available to tour or purchase. This is 207 fewer properties compared to last month, and a 44% decrease compared to this time last year.
Homes Sold: There were 758 homes sold during the month of September. This is 196 fewer home sales compared to the previous month, and a 28% decrease compared to this time last year.
Anne Arundel County, MD Average Time on Market
The average days on market increased to 20 days, which means homes sold 4 days slower on average compared to the previous month. In the last 30 days there have been 407 price reductions, which is more than the previous 30 days and about 48% of the active inventory.
Anne Arundel County, MD Average Home Prices
The average home sale price in Anne Arundel County in September was $526,919, which is a 7.6% increase compared to prices this time last year.